TYPES OF AIRCRAFT PRESERVATION SOLUTIONS
Our unique aircraft preservation products provide a simple and cost-effective solution and simplify the process of returning the aircraft to service after downtime for parking or for required maintenance.
Engine Intake & Exhaust Covers
Our engine intake covers are built using a very lightweight but durable fabric featuring simple fittings! This makes them both easy to fit and easy to remove. Our exhaust covers can be fitted in seconds with our innovative folding plug design; simply unfold the foam-filled plug and press it into the rear of the engine.
FLASHPLUG® ENGINE PRESERVATION SET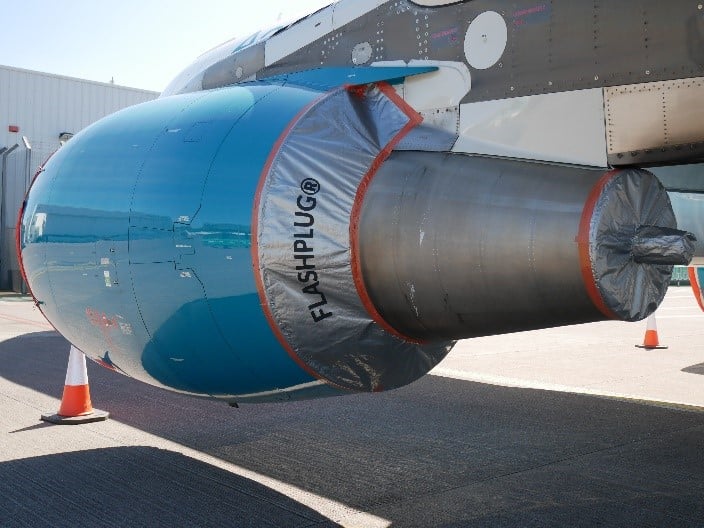 Ideal solution for on-wing engine preservation during parking or storage.
Kits* (FLASPLUG® Kit consists of two engine sets) available for a variety of aircrafts. 
AIRCRAFT WINDSHIELD COVERS (HEATSHIELDS)
Our Aircraft Windshield Covers are designed to fit in the window molding. Covers are very easy to install and will provide many years of sun protection for your aircraft.
Kits are available for a variety of aircrafts. 
Auxiliary Power Unit – APU plug covers protect your aircraft against dirt, sand,  snow, foreign objects and bad weather conditions.
Our Aircraft Wheel Covers are made from heavy-duty but lightweight fabric, easy to install, protect against UV and the elements. Covers for nose wheels and main wheels available to suit a variety of aircrafts.
These Aircraft Sensor Covers will keep insects, dirt, and other debris from entering the tube and causing erroneous readings. Available in different sizes to fit the vast majority of the aircrafts.
They are a great tool and give us a new capability for sure.
Bombardier Aerospace
CompShop
What an amazing piece of kit. We had to replace 3 propellers in Resolute Bay, in northern Canada, where temperatures were around -35 to -55 degrees Celsius.
Canadian Airforce
C130 Engine Change Shelter